---
Friday, July 30, 2010
Baja Mission – Day five
...
"Blessed are you when men hate you

When they exclude you and insult you

And reject your name as evil,

Because of the Son of Man"

Day five dawns! Another day of service! Mexico is cooler today.
Overcast sky's and mist greet the day shrouding the rocky hills and flowing into the valleys.


Our ride into the slum areas is as turbulent as always
but it has a new dynamic as we grow closer to our destination. Children run alongside our bus as we navigate the ruts and washed out surface of the dirt road. Waving and smiles are everywhere!

Great joy fills our hearts and its good to know we are bringing a glimmer of hope, joy and grace into these little lives.
Soon children are riding on our shoulders

and holding our hands as we walk up the steep hill to the building site.

It has progressed!
The roofing is almost done and inside the dry walling has started. The gypsum sheets are placed against the wooden frames and nailed into place. I am given the task of cutting window and door openings with a router. One group is taping joins in the newly constructed walls. The son of the lady who will be receiving the house is working with us. He smiles a lot! So do we! There are many happy workers today!

I have the privilege of teaching a young man how to wire the house
and we go through the building carefully putting in plug points, switches, and light fittings. Some of the young girls are shown how to use box cutters to slice the walling material to size and then they nail the material into the gaps in the wall. The gaps close up rapidly and the sidings and flashing is nailed into place.

Every missionary finds a place on a doorframe or a part of the house that will be covered up to write a message
of blessing or hope and protection for the family. Bible verses abound and then as the doors and windows are fitted the verses are covered to work their timeless effect in silence.

A group of missionaries have learnt about an orphanage in the area.
Help is offered and the painting starts.

A man asks the team to dig a ditch
between his home and another a long way down the hill. Shovels ring out and a jackhammer is procured as the work starts. His relative is in a house down the hill and has no ability to get water. The man wants to run a hose from his home to theirs to share the little water he has. We will make this possible!

Later we gather all the neighbourhood children and play games with them and tell stories.
Today we make small plaited wristbands from wool of 5 colors. Black "negro" to represent sin, white "blanco" to represent purity, green "Verde" to represent growth in Christian life, "rojo" or red to represent the blood of Jesus Christ, and yellow or gold "oro" to represent the special promises God gives those who live for |Him. It represents our lives from now into eternity!

What is wonderful is that the children don't only want the bracelets but want the pieces of paper explaining all this in Spanish.
They line up and come and ask for this good news even after receiving the bracelets and being told what the colors represent.

They hunger after God's word.
In contrast I see in my minds eye the wealthy children of our 1st world nations and the distain and ambivalence of God. When we try to speak to the children in our 1st world countries we get persecuted with laws binding us and stopping us giving out the good news. It is as if at home the people have been taught to hate Christians but here there is no such preconditioning!

"Blessed are you when men hate you

When they exclude you and insult you

And reject your name as evil,

Because of the Son of Man"

Here we see the true response to Jesus love and help in the community.
They know there is no agenda except to help! We build houses for people who need them even if they forbid us to talk about Jesus. We do this because Jesus wants us to love unconditionally and sacrificially! No preconditions! Just love! That's what Jesus love towards us is and so we can only respond in the same way"

"Because of the Son of Man"
Fri, July 30, 2010 | link
Thursday, July 29, 2010
Baja Mission – Day four
…
"Blessed are you who are poor

For yours is the kingdom of heaven

Blessed are you who weep now

For you will laugh"

Another morning dawns in the Mexican Desert.
The cattle ranch is filled with the sounds and smells of cattle. A donkey brays noisily in the background and the hills are covered in a white haze as the mist slowly lifts.

Excited chatter at breakfast is followed by songs of joy
as an electric guitar leads the worship of 150 voices lifted in praise to God.

Soon our buses are rolling through the countryside past needy homesteads and propped up houses.
Thin hungry dogs saunter out of the way as our bus lurches up the mountainous roads pushing clouds of dust into the air as we head to our building site.

Yesterday a team got the framing of the house completed and also placed the wood on the roof.
Today we must put shingles on the roof. A few of those over 18years old are allowed on the roof and tentatively nail planks to roof trusses. Others start the dry walling and wiring inside. The sun burns off all the mist and it gets real hot real quick! So hot that the shingles go soft and the tar in their makeup becomes sticky. It is exhausting work but not a word of complaint is heard. Now and then a prayer of wonder and praise escapes someone's lips.

Total thankfulness
to be able to help this family is everyone's attitude. This is privilege! We are learning that the pain of sacrificial love is unimportant.

God's love that is being extended to the poor reign's supreme!

Others get asked to go and dig a ditch.
A man joins the missionary's laboring alongside them in the sun. He tells a story of malicious attack by the woman he loved that resulted in him loosing her, his children, and the life he had in America as he was deported.

He is trying to establish a new life.
One of the missionaries talk with him, he asks the person to pray with him. After deep conversations he asks to understand Jesus deeper. He prays that Jesus would lead him into a new life and gives his life over to God.

The angels in heaven must have rejoiced at this and the sun seems brighter, the day more serene.

In the afternoon we set up a time of stories and games for the children.
They come out in the hottest part of the day to sit and listen to stories of Jesus.

When our bus comes, they don't want us to go.
It is with great regret we have to leave these little souls with their bright smiles and beautiful brown faces.

At the cattle ranch a cold shower under a trickling pipe is like manna from heaven.
It rejuvenates and cleans and we think that Jesus would have loved the modern convenience when he walked the dusty roads so long ago, but probably never had the "luxury"!

Jesus would have felt the dirt the way we did,
he would have been as tired as we were, as he trudged up those Galilean hills. We understand a bit more of what he said! Sacrificial love is not something given in an instant. It drags the strength from one over the hours and days. It requires Holy Spirit to intervene and allow it to flow in grace and joy.

Then comes supper and amazingly the music group arrives during our meal. It's the

"Newsboys"
and they tell us how much they respect what we are doing for the poor. Not only do they give every person a free copy of their new hit album born again, but they willingly pose for photos and offer to sign the album for those that want this done.

More impressive to me is a sight that meets my eyes when I head back to my tent
. My tent is at the back of the area away form everyone's eyes. One of the "newsboys" is in the back corner of the ranch, alone, looking to the hills and praying to God with hands outstretched to the heavens. Deep in prayer, he hears nothing around him but focuses on God alone. A stark contrast to the scene inside of fans milling around the other guys like bee's around honey. Now I know why their music is good!

As this isn't enough they then lead us into worship and the power of God fills the night skies.
"Glory to God!"

The comes the message but it is not a planned sermon,
instead a group of leaders lay bare their relationships with their parents for all to see. Hearts are touched and people repent giving themselves a chance to be healed.

We retire knowing that

"blessed are you who weep now for you will laugh!"
Thu, July 29, 2010 | link
Wednesday, July 28, 2010
Baja Mission day three
...
Psalm 2

"The one enthroned in heaven laughs"
He says "You are my Son; today I have become your Father. Ask of me and I will make the nations your inheritance, the ends of the earth your possession"
Righteous prayer from righteous people in adverse circumstances can be seen to be a penetrating power through into the murky lives of a sinful world.

Today we ventured into the poverty stricken areas of Mexico. Young men and women gasped in shock at the ramshackled rundown appearance of the tiny dwellings. A few boards cobbled together with assorted fixings and ties covered the dusty landscape between sandy hills.

Here and there, a cactus and a few flowers seem to liven up the drab exteriors. The bus climbed up over dirt roads that had ruts and huge potholes. It swayed so much from side to side and up and down that if you closed your eyes you could imagine yourself on a rollercoaster at a theme park. Finally the buss could go no further and so twenty five of us piled out, picked up our equipment, water bottles (the kind you put onto of the water cooler in an office) and food for the day and started the climb up the dust laden dirt track that didn't warrant the name "road" that the locals gave it.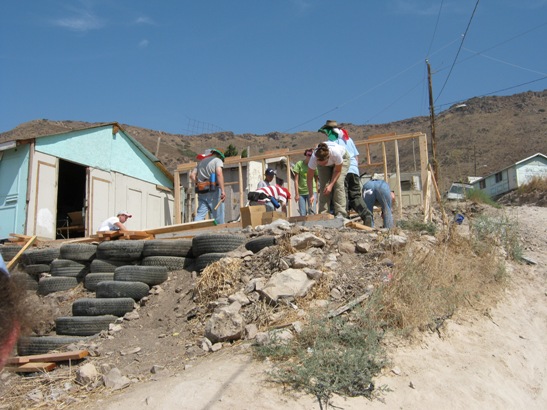 Halfway up the hill we come to a single room dwelling. A whole family lived in this room. Mother father and four children! Beaming faces greet us with smiles and the two Mexican construction workers quickly get us working after morning prayer for safety and blessing. A concrete pad that will form the foundation has been thrown. Two thirds of the group start nailing wood frames together as half of the remainder start painting boards that will be applied to the frames once complete.

Meanwhile the rest of us start the first sweep through the neighborhood looking for a place to play games with children.

Sandy
roads lead upwards between houses that all seem to be created from leftovers at a cheap building outlet or from rejected materials from other construction areas or the city dump. Some houses are made from old garage doors!

Children peak out of the shadows from doorways and wave to us from behind makeshift fences. Ragged flea bitten dogs stroll out into the sun to yap a few times at these "gringos" who dared to venture into the hot Mexican sun and their poverty torn lives.

What strikes us all is the amount of laughter and smiles we see. Also looking around we see the impact of Jesus on the community. Churches are in evidence and are well cared for compared to the surroundings. Looking around we see a large number of homes built by missionaries. Even gang graffiti proclaims "Jesus is Lord".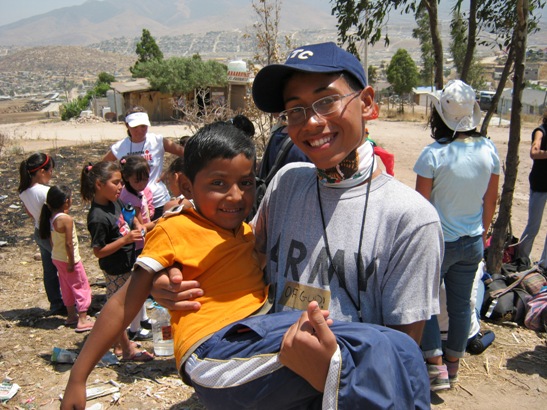 Laughter and joy in the midst of pain! I think how I see more happiness in peoples faces here than I ever see walking down the streets of a wealth city! Every bit of available items are used and not wasted in this environment. I watch as four children fly kites high above the hill in the mountain winds. They are made of plastic bags that we use to carry groceries and the discard. The sticks come from old broken vegetable crates. They fly high pointing to the freedom that only Jesus can give!

In this place hope in the future is scarred by lack of work.

A family asks for prayer. A wife needs an operation to remove oversized kidney stones. While the health system will give half the money to them, the remaining $3000 is more than they would ever be able to manage. There is no money for the operation! Worse still, she cannot do work due to the extreme pain and her husband has to quit his job to manage the house and children. No income! We pray for them and wish we could do more. Appreciation for the prayer is evident.

Today is good. We bring joy into this neighborhood. Later games and fun and a deep message for people to give their lives to Jesus meets the crowds who gather to see what we are doing.

I am sure God laughed with joy! I was thankful to be there!
Wed, July 28, 2010 | link
Tuesday, July 27, 2010
Baja Mission 2010 - Day 2
6am, the wake-up call is a noisy speaker shouting out rap music into the Mexico morning sun and tent city struggles to become active!


Rolling out of sleeping bags we can feel the effect of a the hard ground on tired muscles. Sleepy faces get to expreience cold showers. Brrrrr! The showers are located in a sheet metal building with a tank that feeds it water which dribbles out the plastic pipes on the poor unsuspecting soul below that is waiting for warm water.

Wow! and a few other comments erupt sporadically from the shower stalls.

Breakfast is welcome if a bit less than the average hearty meal the teenage population is accustom to having. Then we are onto training...

Key to the day is the declaration of a world changer. . .

"Today, I will live honorably through my thoughts, actions and speech.

I choose to be full of faith; I will not be a hearer but doer of the Word of God.

I will serve before I demand, I will love and not hate, and I will give before I take.

Today, I choose to make a difference in this world and to be part of something bigger than myself.

I choose to dedicate my life to prayer and ask God for his miraculous power and the courage to do the impossible.

I will make Godly relationships a priority in my life as I esteem others higher than myself.

Today I will live my life in such a way that I will change the World!"

The next few hours we spend in training learning drama, crafts and games to be used to entertain and speak to the young Mexican children we will encounter.

We learn how to communicate the "wages of sin are death" and that no matter what we do we can never get away from the selfish, ignorant and nasty actions of ourselves and others. That "we all have sinned and fallen short of the glory of God", but that there is wonderful news in that Jesus came to save us from this and that if we believe in him, change our ways, and live in His way, we will experience both joy and eternal life!

Almost everyone present, all 300 teenagers and 50 adult leaders know this to be true anmd as the prayer goes out, a spiritual power resonates in the now hot hall.

The sun gets hotter every minute and the need for water is evidenced by everyones water bottles being refilled at a frenetic pace.

Our single peanut and jelly sandwich for lunch is appreciated and amazingly we hear not a single complaint from the teens. Girls and guys connect with each other and God. The spirit world is alive and the power reverberates! Despite laughter and fun not a single romantic relationship is in sight. Thats not why we are here! We are here to learn to help others and we know others things will just have to wait!

The evening starts with a loud rhythmic beat of the christian band that pulses its music into the cooling night air. Recommitment of lives rise as the sun sets! People are prayed for and then we walk into an amazing nightscape filled with candles set out in circles. Here we recommit our lives to helping and supporting the Mexican families we will encounter tomorrow.

Leaders are chosen and everyone is dedicated to the great work to start tomorrow!




Tue, July 27, 2010 | link
Monday, July 26, 2010
Baja Mission 2010 – Day one
The small chartered aircraft sat on the runway at Pearson International Airport, engines humming but unable to go anywhere without being released by the control tower.
Inside, a group of five missionaries were going places. It had started months earlier as a request had been made for helpers to help build houses for the destitute in Mexico. We were destined for Tiajana, Mexico.

The hard effort of fund raising and preparation was now over. Two of the young men on the flight would be taking their first flight ever. Apprehension and excitement filled their anxious bodies. The other three were more relaxed. That comfort of having done it before placated their minds as they lazily surveyed the airfield. Waiting!

Then the directive came and with a surge of power the aircraft swept forward and to the amazing satisfaction of the young men lifted into the air. Our trip to Baja, Mexico has started. We were to stop over for a short few minutes in Houston and change to a larger aircraft for our flight to San Diego.

Just under ten hours later the same group descended the escalator alongside that life-sized model of the Spirit of St Louis at the San Diego airport. The ground floor of the arrivals area when surveyed from above was awash with hu7manity, but a green tinge flecked the crowd with color. Mission T-shirts, their distinctive lime green color with that tagline "A million acts of love" were everywhere.

Excited teens jumped into each others arms, hugging and recounting travel adventures before tentatively discussing their anticipated future activities.

A bus whisked the group which had swelled to 55 people away, out the airport and past Navy ships docked in the San Diego harbor. Passing palm trees, the little Italy restaurant, those weird 3 wheeler tourist vehicles we were transported into the outer part of the city away from those high rise buildings that depicted the core of commerce.

We turn into what appears to be a small manufacturing and business area and then the bus stops. People are confused! Where are we?

The answer comes when we are led into a building to see a whole lot of others in green T-Shirts inside milling around. This is our registration area. A church

unlike churches most of us have dealt with. Guitar music plays and rock concert images flash Christian messages and dance images across screens. It takes an hour to check our documents and get identification and then we are on our way to Mexico.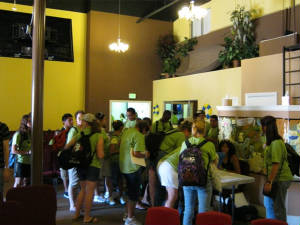 The bus pushes through rush hour traffic to the border. The border guards seem happy to see us and we get joined on the bus by a Mexican guy with a guitar who is introduced as the Mexican version of the man with the Guitar in Toy Story. Mexican songs accompany us for the next 10 kilometers.

Soon he is dropped off and the houses give way to farmlands and hovels. Olive fields and cattle ranches start to emerge.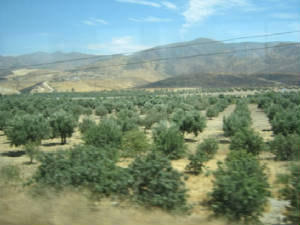 "How long till we get there?" that universal question pops up. "when you smell it we will be there!" comes the answer. The smell of cattle manure becomes overwhelming!

Then we see a ranch with large numbers of bright tents and flags of many nations flying. Home for the next few days! Camera's click as we enter the ranch area.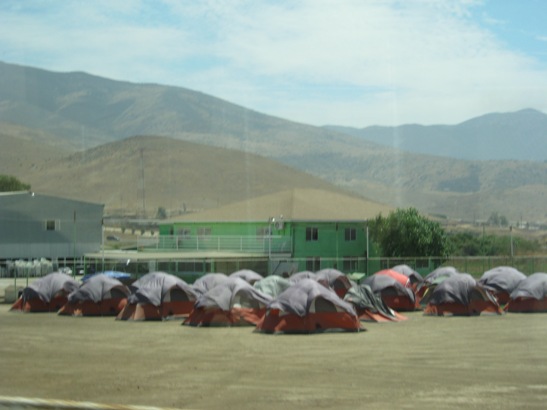 Tiredness sets in! Tent city gains more occupants and after food and then worship with an awesome band we finally get to shut our eyes. We thank the Lord for a safe trip to our new home for the next few days. Let's see what tomorrow brings!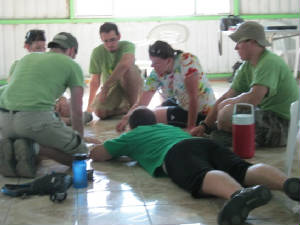 Mon, July 26, 2010 | link
---
If you want to see a short blog describing a perspective on what I believe click here
Rift in Evil

By Ken X Briggs

Published:

September, 2010

Format:

Perfect Bound Softcover

(B/W)

Pages:

208

ISBN: 9781450250894

Available from Barnes and Noble, Amazon, iUniverse.
Credit cards are acceptable on sites having Ken's books:



Ken's book covers are displayed below. . .

This suspense thriller centers on Kiara, a beautiful young woman pursued by a murderous group of people, who relentlessly and ruthlessly hunt her and her sisters. Kiara has no idea why she is being targeted! When Kiara and her family turn to the law for help, this fails. Her pursuers' powers reach deeply into the political and law enforcement world. Family support for her dwindles when they too have to flee her pursuers. Can Kiara escape the clutches of both the law and dishonest big business? With the media broadcasting that Kiara and friends are dangerous and subversive, can Kiara clear her name and bring her pursuers to justice?

To purchase Kiara's Pursuer ebook @ $1.99

kindle version click here,

To contact the author contact Author@KenXBriggs.com

The town of Zinaville is dropped into a spiral of evil causing a young man and a beautiful but abused woman to launch into an investigation that unveils an evil conspiracy.

A horrific mining accident results in Joshua Robyn's father being killed. Joshua struggles both with himself and his townsfolk as he tries to make sense of an incomprehensible situation. Is it an accident or a murder? Why is there a seeming link to evil? Why is his work environment suddenly threatening? What is the conspiracy about and what are they trying to do? As action moves dramatically from exotic African grasslands to the heart of North America's cities, the plot unfolds and the pace quickens. Will there be time? Why is a beautiful abused young woman in the center of this plot?

Evil tendrils tighten on their lives and the interplay between the visible and invisible world shows opposing forces at work.

Will there be a rift in evil?

Will they be able to stop the evil in time?

Published:

September, 2010

Format:

Perfect Bound Softcover

(B/W)

Pages:

208

ISBN: 9781450250894

Available from Barnes and Noble, Amazon, iUniverse. Chapters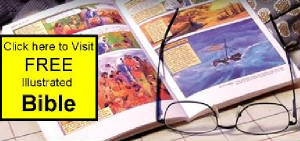 May you be blessed today!