---
Friday, September 24, 2010
Welcome, old friend! Welcome!
...
Thank-you for being special to me! Thank-you for being one who lifts my heart! Thank-you for being uniquely you, and having a special contribution to our world! Thank-you for coming back to lift my spirit and enable me to soar over the days pitfalls!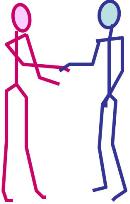 Sometimes we walk around a corner of life and bump into someone who we haven't seen for a while!

When this happens different emotions erupt within us! Today I want to explain how I appreciate people in my life, and what they mean to me!
Yesterday, I was in a meeting room at work and a lady I had worked with a few years back walked past the door where we were meeting.
I glanced up and saw her at the second she saw me!
Immediately I remembered how she had spent hours of dedicated time working in very difficult circumstances,
how together with a third friend who has since died of a disease, we built a extremely useful tool to help people.
I remembered how she is a single mom with a son she loves dearly and that she had great difficulty working and caring for her son at the same time.
I remembered how I had prayed for her and her son,
and how we had managed to help her get to work at home as much as possible. But most of all, I remembered her positive attitude, that wonderful wry smile, and her candid advice!
The memories flooded back in an instant!
Then she stopped turned and burst into the meeting room to greet me.
The activity in the room stopped as we touched base again for a few seconds.
She is much happier now I could see, her son is becoming a Chartered Accountant and I detect a quiet joy in her life.
Nothing could be better for me at that instant in time.
But I also remember the pain we shared as we worked together and then as we lost a fellow worker we loved to a disease and death. Now sMagda was here again, facing me with that same wonderful humour and wry smile!
I was seeing an answer to prayers that I thought I would never see answered.
We had lost contact years back!
I tell you this for two reasons!


Firstly, never believe a prayer falls on deaf ears or living Christ like is worthless!
In the years of my life I have found that many of the prayers I thought had gone into empty space were in fact working on despite my lack of understanding. God answers honest deep prayers! Not when we want or how we want, but in universal truth and love! Sometimes pain is just a disguise for love deal with in an unexpected way!
The simplicity of this truth is summed up in these words of advice that are about Jesus:
1 John 2:5-11 (NIV)
God's love is truly made complete in him. This is how we know we are in him: Whoever claims to live in him must walk as Jesus did.
Dear friends, I am not writing you a new command but an old one, which you have had since the beginning. This old command is the message you have heard. Yet I am writing you a new command; its truth is seen in him and you, because the darkness is passing and the true light is already shining.
Anyone who claims to be in the light but hates his brother is still in the darkness. Whoever loves his brother lives in the light, and there is nothing in him to make him stumble. But whoever hates his brother is in the darkness and walks around in the darkness; he does not know where he is going, because the darkness has blinded him.


I point out this because I have found that many people that originally I found difficult, that I had to persistantly love, difficult people that I had to work with, that I forced myself to love with Jesus love, became precious to me over time!
Many of these people are people who I like to walk into as I go through life. Even enemies have become friends! That's the beauty of living as a true Christian! Friends appear everywhere!
Secondly, remember that Jesus' example builds the best relationships!
We are so quick to think we know more than those ancients
who penned the words in the good book describing how Jesus lived. They describe how we should apply this to our lives but we think we know better!
Let's remember we don't know more than God!


Modern conveniences and knowledge advise us to focus on self sufficiency, giving things to ourselves, a pampering ourselves, but the bible says we are to be outward focused, loving, and helping others even when it is difficult for us to do so!
Brave living with an honour system that is totally submissive to God's will is the way to go!
It's the way to make sure that when we meet our past in the form of people, that we experience that rush of positive emotion and love!
Let's go love others today!

Also remember by reading this blog and letting others know you lift my spirit and touch the world as well.



i.e. You are important in the little things you do!

Have a good day!
Fri, September 24, 2010 | link
Thursday, September 23, 2010
Deadlines! The panic of getting it done in time!
Deadlines! The panic of getting it done in time!
The deadline to be "finished" races towards us
like a runaway truck heading down the hill
towards a cyclist
who frenetically pedals away
from the disaster!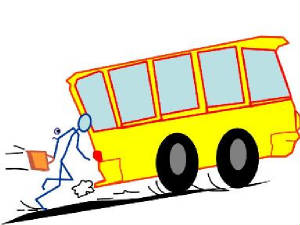 Or just think of chasing that bus that's pulling away!

We have all experienced the adrenaline fear that goes with these types of pressure moments
and wonder how we got there, what we can do about them, and when we finally engineer a near miss and escape at the last moment possible, we wonder how we can avoid this occuring next time, don't we?
It's worth considering different ways to avoid and deal with the situations!
Probably the most reliable way is to not take on the task in the first place
, but sometimes it's something we have no choice on, like we have to go for that operation on a specific day, or my graduation has specific requirements but I need the qualification, or there are some other difficult situations.



Eat an elephant one mouthful at a time!



This is a piece of African advice. It means, don't focus on the mountain, just work away at the little bits of work we can manage. This gives us focus on what we can do, and reduces the stress of the overall task.

Start!
Hmmm! I have a friend who is lacking grades to enable him to get into his life's work correctly, and when I ask him what he is doing about it, he always tells me what he
intends to do
, but never
what he has done!
That is a problem! This has been happening for months!
If he only started he may have had a chance, without it, he has lost already!
Start!

Balance work and play!
Wow! Tough one isn't it? It's one I always have to encourage the men and women who work for me to do! Taking a break enables creative juices to flow and gets us to move past barriers that stop our progress. Not taking time off means we never get to this point! At times it is productive to simply down tools and have some fun!

When I face a deadline, I think of the biggest deadline anyone has ever faced!
Imagine that the whole of the world's health was on your shoulders and that for you to succeed, you had to give up your life in an embarrassing, horribly painful, torturous, extended death. You know when it's going to occur and even hint to your friends that it's going to happen, and how but they don't get it and tell you to wise up!

How would you feel? Could you cope
? Could you carry on loving others, and helping them, and guiding them in their lives. How about if one of your friends is the one who betrays you. Could you still love and trust the others?

That's a significant deadline! Jesus faced this one! I'm glad I didn't.

He faced it so you and I would have strength to face lesser challenges in life and win!
Let's allow him to guide us over these obstacles, to help us know what to work on, to get going, to balance our work with the rest of our life, to allow Holy Spirit to be part of our decisions, joys, and hardships. That way we don't face the deadline alone! We have super power and knowledge to address them the right way!

Have a great day!
Thu, September 23, 2010 | link
Wednesday, September 22, 2010
How do we eat and drink?
How do we eat and drink?

looking for a bar to dance and drink?

We in North America are into eating, drinking and partying aren't we?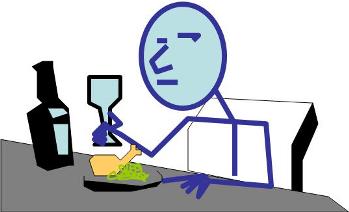 It shows in our statistics:

"
Here are some of the most recent obesity statistics available:

Prevalence

In 2000, the prevalence of obesity among U.S. adults was 19.8%, reflecting a 61% increase since 1991.

In 2000, 38.8 million American adults were classified as obese (defined as having a body mass index (BMI) score of 30 or more.)
Adults

Nearly one third of American adults are obese (BMI over 30.)

All adults over 20: 61.3 million (30.5%)

Women over 20: 34.7 million (33.4%)

Men over 20: 26.6 million (27.5%)
Children

Approximately 15.3% of children (aged 6–11) and 15.5% of adolescents (aged 12–19) were overweight in 2000.

A study suggests that one in four overweight children is already showing early signs of type II diabetes, while 60% already have a risk factor for heart disease."
We seem to think that these party habits we get when younger ( high school, college, apprenticeship and varsity) are the most important ways of enjoying life and we overindulge with disastrous consequences later.

For example the same statistics also say:

Obesity Related Diseases

80% of type II diabetes is related to obesity.

70% of Cardiovascular disease is related to obesity.

42% breast and colon cancer is diagnosed among obese individuals.

30% of gall bladder surgery is related to obesity.

26% of obese people have high blood pressure.
Death

An estimated 300,000 deaths per year are attributable to obesity.

Obese individuals have a 50% to 100% increased risk of death from all causes, compared with normal-weight individuals.

So what does the bible say in regard to this?


Firstly it says

1 Corinthians 10:31 (NIRV)

So eat and drink and do everything else for the glory of God.

Hmmm! For God's Glory! NOT just our pleasure! Why not? Well it also says. . .

1 Corinthians 6:19

Do you not know that your body is a temple of the Holy Spirit, who is in you
, whom you have received from God? You are not your own;

Then when we read about that great Christian ritual, of taking communion bread it says in Luke 22:19 . . .


Then Jesus took bread. He gave thanks and broke it. He handed it to them and said, "This is my body. It is given for you. Every time you eat it, do it in memory of me."

We often forget it isn't just at church meetings we are to give thanks. It says EVERY TIME we eat we should. If we do so, if our bodies are actually keeping both us and God in them, and if we are to be respectful of God, I guess we would be careful of abusing our bodies. It makes sense both physically, psychologically and spiritually doesn't it?

So let's be careful of what we put into out mouths today!
Wed, September 22, 2010 | link
Tuesday, September 21, 2010
One of those days! Woke up tired, too much to do, no time! Help!
...

You've heard them all! The ways to beat that down, out and beat up feeling. Things like "12 Surprising Things That Are Making You Tired"
by Stacey Colino, Redbook Magazine.

They give good advice.


Things like . . .

"Be Serious About Fun" all work no play is not good. (What about the lack of time?),

"Lighten up" get out in the sun! (when?),

"Practice breathing from your diaphragm deeply" and have people think you have problems?

"Don't be a desk potatoe", what about if that's how I earn my money?

"Move more" okay, so I will take the stairs but I'll be late for that meeting.

"Get regular sleep", this ones the best! If I could do that I wouldn't have the problems right?

"Drink more water", which means more painful waiting for bathroom breaks as someone talks the hours away in meetings.

"Dim lights at night", I don't know about you but I sleep withy the lights off!

"Have a good breakfast", well at least I get one right!

"Don't overdo exercise"! Now make up your mind, a few suggestions back I was told not to be a desk potatoes.

"Don't slouch", okay agree with that. But sometimes a good slouch makes one feel comfortable. It's hard to relax sitting up like we have a poker for a backbone!

"Lower the decibel level", agreed, but let's at least have some music to take the cycling thoughts away.

Emotions that apparently make us exhausted are "worrying", "feeling guilty" and

"not asking for help" (is this last one really an emotion?)

When I look at these items, probably all good advice, I always think they assume we can make the difference. What about when we are overwhelmed and cannot? Who do we go to then?

There is one peace of advice that always comes to me at times like this, it is a strange set of words that comfort, lead and quiten me.


They are. . .


John 14:27 (NIV)

Peace I leave with you; my peace I give you. I do not give to you as the world gives. Do not let your hearts be troubled and do not be afraid.

Jesus is telling a bunch of worried, life threatened people, who don't really get it, and who rely on him totally , that he is going away
"
Do not let your hearts be troubled. Trust in God
[
a
]
; trust also in me."

When someone says to me "trust me" my first thoughts are "why are you God?", and in this case the answer is "yes"!

We can trust God because he is God!

We can had our concerns to him and get on with the task of living the best we can! We are not miracle workers, He is! Lets leave that to him! My job is to do the best I can today and let him fill in for the gap between my intent and my limitations. Right attitude does help with the day and Jesus asks me to have that.

So today I will have the right attitude, accept his peace and get on with it!

What about you?

Tue, September 21, 2010 | link
Monday, September 20, 2010
Get me out of this horror movie I call life! I want to live safely!
Get me out of this horror movie I call life! I want to live safely!



The evil music cues, the scene goes dark, and fear builds, the tension rises. We can't see what's coming its so dark, so very scary, dark. . .

Horror movies seem to love dark scenes.
Unfortunately many of us seem to go through life as if it's a horror movie.
The darkness in life is not due to a lack of physical light, but rather due to a lack of knowledge of the best thing to do, how to deal with difficult or horrific circumstances, or to being overwhelmed by life's pressure that bears down on us, threatening to squish the life right out of us!

It's worse than a horror movie!

How do we survive, how to we beat back the horror bugs that plague our life?
How are we to overcome the evil and be victorious? Do we have what it takes to be the hero of our own life's journey, or will we end up washed out, floating on the debris of life?
People need guidance, but it's so difficult to find guidance that we can trust, isn't it? For many of us even the most trustworthy people, like our parents, have failed us. How are we to learn to trust and move forward?
We need to find others we can respect and learn from!
When Jesus walked the earth it was the same! The "bad" guys controlled everyone's life. A foreign power (the Romans) told everyone what to do, and if they didn't do it, they were punished or killed in real nasty ways, or at least life got real bad!
Then a guy appeared who was different.
His name was John the Baptist and he seemed to know something. He dressed weird, lived in weird places and ate weird things. (wore clothes of camels hair, ate locusts and honey, and lived in the desert).
The word got out and people started to come and see him and find out what he had to say. He stood out because he spoke truth and didn't mind if people took offense. He pointed out people had to return to God!
The bible at John 1:49 points out that John the Baptist drew people to him so that he could show them they needed Jesus.
People came to him and then,

by watching and learning from John, they found the one who would really help them with their lives! Jesus!
John had an interesting approach, he never argued with people. He was basically following those words written in

2 Timothy 2:14
Keep reminding them of these things. Warn them before God against quarreling about words; it is of no value, and only ruins those who listen.
He refused to debate, and merely tried to point people to truth and show them how to fix up the mess in their lives.
This is what God wants us to do! Firstly like John, we don't have to do everything the way everyone else does!
Conformity is an excuse for failing to develop our own unique personality.
God wants us to be unique, special, unlike anyone else. Then he wants us to use that uniqueness to serve others!
Yeah! I said serve! We are servants!
That's what a Christian is, a servant to those who are lost in the horror and pain of this world. We need to be so like Jesus, that God's love and joy is obvious in our lives. People should be seeing God when they look at us.
In this way as we live our daily lives, people will start to come to us and ask us what is different about us?
Then, we must be ready to tell them.
That's what John did! He told them "Turn away from the nasty, selfish, and ignorant things you do that hurt yourself and others, and be baptised!"
Baptism was a way of saying publically that my ways are going to change from this point on. Basically its saying "Watch me now and you will see I have changed!" That's what people did then! Christians today sometimes adopt this ritual and also get baptised. They are however making a slightly different statement. It has all the meaning of the other older statement, but it also says "I accept Jesus and his way of life. I will live like him. Watch me!"
How do you feel about this?
Are you baptised? Are you the hero of your life and the lives of others? Are you willing to be different enough to speak truth, but without quarrelling with others? Are you willing to say "watch me and learn a bit about real Christian love and who Jesus is"? If others watched us, what would they see? Would they see the light in the darkness of the tunnel of life?
I sure hope so!
Mon, September 20, 2010 | link
---
If you want to see a short blog describing a perspective on what I believe click here
Rift in Evil

By Ken X Briggs

Published:

September, 2010

Format:

Perfect Bound Softcover

(B/W)

Pages:

208

ISBN: 9781450250894

Available from Barnes and Noble, Amazon, iUniverse.
Credit cards are acceptable on sites having Ken's books:



Ken's book covers are displayed below. . .

This suspense thriller centers on Kiara, a beautiful young woman pursued by a murderous group of people, who relentlessly and ruthlessly hunt her and her sisters. Kiara has no idea why she is being targeted! When Kiara and her family turn to the law for help, this fails. Her pursuers' powers reach deeply into the political and law enforcement world. Family support for her dwindles when they too have to flee her pursuers. Can Kiara escape the clutches of both the law and dishonest big business? With the media broadcasting that Kiara and friends are dangerous and subversive, can Kiara clear her name and bring her pursuers to justice?

To purchase Kiara's Pursuer ebook @ $1.99

kindle version click here,

To contact the author contact Author@KenXBriggs.com

The town of Zinaville is dropped into a spiral of evil causing a young man and a beautiful but abused woman to launch into an investigation that unveils an evil conspiracy.

A horrific mining accident results in Joshua Robyn's father being killed. Joshua struggles both with himself and his townsfolk as he tries to make sense of an incomprehensible situation. Is it an accident or a murder? Why is there a seeming link to evil? Why is his work environment suddenly threatening? What is the conspiracy about and what are they trying to do? As action moves dramatically from exotic African grasslands to the heart of North America's cities, the plot unfolds and the pace quickens. Will there be time? Why is a beautiful abused young woman in the center of this plot?

Evil tendrils tighten on their lives and the interplay between the visible and invisible world shows opposing forces at work.

Will there be a rift in evil?

Will they be able to stop the evil in time?

Published:

September, 2010

Format:

Perfect Bound Softcover

(B/W)

Pages:

208

ISBN: 9781450250894

Available from Barnes and Noble, Amazon, iUniverse. Chapters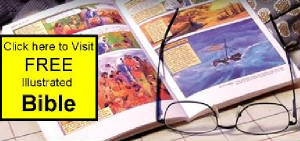 May you be blessed today!