So Jesus was not born on 25th of December as far as we can tell, so when was he born?
There's a lot of theories, but let's just know before we take a look at some of them, that
none of the theories are completely satisfactory.


I find this strangely comforting and helpful and will explain why after I have given you a quick view of a number of the theories.
Let's start with discussing times and calendars, then take a look into Luke and go from there.

Our calendar is based on the Roman calendar, but the Jewish year both at the time of Jesus and now runs according to a different timeline. The two differ by various amounts each year. If you have a Jewish friend you will see this in how Hanukkah sometimes is at Christmas time and sometimes not.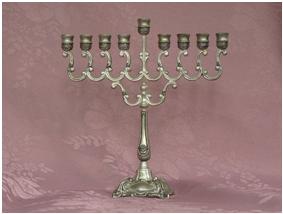 Hanukkah is the feast the Jewish people celebrate eight days of lighting the lights of a Menorah and remembering the rededicating of the temple during the inter-testamental period (For some more heavy reading of this time see my paper on this timeframe).
So calendars are different to start with!
Now let's go to Luke chapter 1 where it describes the task of Mary getting told by the angel she would be getting pregnant by Holy Spirit. (They have a big word for it called the " Annunciation", and I really don't know why people try use these big words to say simple things!)
So it says "In the sixth month after Elizabeth had become pregnant, God sent the angel Gabriel to Nazareth, a town in Galilee"[1] and it follows this with "Your relative Elizabeth is old. And even she is going to have a child. People thought she could not have children. But she has been pregnant for six months now."[2]
So Zechariah was Elizabeth's husband and around the time when Elizabeth got pregnant he served as high priest going into that part of the temple called the Holy of Holies. This would have happened on the Day of Atonement. (Another day the Jewish people had a festival and party). This means they(Zecheriah and Elizabeth) probably had sex around the time of this feast of tabernacles. This in turn places Jesus conception in the period around the spring equinox.
Most of the Christian world celebrates the annunciation as 25 March and so they conclude Christmas is nine months after that. Whether this is right or not? You judge!
Okay so now let's take a different tack.
Luke talks about two guys called Caesar Augustus and Quirinius. He says "In those days, Caesar Augustus made a law. It required that a list be made of everyone in the whole Roman world. It was the first time a list was made of the people while Quirinius was governor of Syria. All went to their own towns to be listed."[3]
Matthew speaks about King Herod. He says "When King Herod heard about it, he was very upset. Everyone in Jerusalem was troubled too. 4 So Herod called together all the chief priests of the people. He also called the teachers of the law. He asked them where the Christ was going to be born"[4]
Some dates about these guys!
Caesar Augustus
: 23 September 63 BC – 19 August AD 14, He was generally called Octaviaus between
63 and 44 BC, and Augustus between 27BC and his death.

King Herod: (Herod the great) Born 74BC died 4BC [Don't get this guy mixed up with other Herod's like the one that killed John the baptist.
Quirinius : Born 51 BC died AD 21.
So this means the overlap says Jesus was born in the years between 51BC and 4BC if we use the intersection of their life dates to get a period. i.e the time they were all alive.
This is logical so far but now for the twist in the story!
A historian called Josephus[5] said that Herod died after a lunar eclipse, before the passover and 37 years after being named as King by the Romans, and 34 years after the death of Antigonus. This makes his death 4BC.

The Jewish New year is the new moon closest to 21st March but is obtained by human estimation with its errors (particularly in ancient times). Now since a partial eclipse took place around the 13th March 4 BC, this eclipse is usually taken to be the one referred to by Josephus. However there were also other eclipses around this time, two in 5BC and one in 1BC. One in 5BC is also a pretty good candidate. Using estimations of Jesus age as a year and a half when Herod meets the wise men (arbitrary), it gives a 6BC date for Jesus birth.
The apparent problem is that the only known census of Quirinius occurred in 6AD when he was Governor of Syria. (This is not to say that he didn't influence August in some of his census' such as those that Augustus did, and we know August did census' in 28BC, 10BC, and 14AD.
So was either Luke or Matthew wrong?
Well there was another version of Luke's gospel (an Early Church father called Tertullian's) in which he used the name "Saturnius" rather than "Quirinius". Saturnius was in charge from 8 to 6BC. Since our gospel was copied a number of times could someone have put in "Quirinius" instead of "Saturinius" simply because that was the more recent and vivid account of a census. Maybe Saturnius was the correct original name. (I did say none of the theories would be great didn't I).
Also Quirinius may have been governor earlier! The bible text says "first time a list was made". This suggests there was a second. Since we only have one, the 6AD census, it seems likely there was another. The problem is that Quirinius wasn't governor(legate) of Syria until 6AD. Luke then also does mention a second census in Acts 5:37 "After this, Judas from Galilee came along. This was in the days when the Romans made a list of all the people. Judas led a gang of men against the Romans. He too was killed. All his followers were scattered."
So it appears as if we have only one census we know about, but Luke knew of two! Also Quirinius was told to stop trouble with a crowd called the Homanadensians around 12 to 6BC[6] as so would perhaps have had military governing of Syria during that time!
Now we have closed the date range to between 12BC and 6BC.

Okay, now we have the facts so let's put them together the best way possible.
Herod's death is pretty well known and the date seems good. Jesus would have been a small child when the Magi arrived and since Herod killed off the two year olds and under based on the information he got from the Magi of the time of the birth, 6BC makes sense. If we accept that Quirinius could have had military governorship of Syria for a while around the same time, he could have called a first census. Alterntively, Saturnius could have called a census.
So 6BC seems good! Okay now which day and month?

My own preference is linked to the understanding that the Jewish Christians celebrated at the same time, and the same festivals, as the ancient Jews themselves. They were after all both Jews and Christians (you can be both!)
Hanukkah is celebrated starting on the 25th Day of Kislev(a Jewish month) for eight days. Baby boys were circumcised on the eighth day in Jewish custom. So this makes it a real interesting parallel.

The Jews celebrating the rededication of the temple and the lighting of the Menorah as a symbol, while the Christian Jews celebrating the light coming into the world as Jesus.

Celebration of the lights continues for eight days. Baby Jesus was considered a newborn becoming fully human after his circumcision which happened on the eighth day. (This was the first blood Jesus spilled for us. Interesting how his start in life and end in life is linked with spilling of blood).
It seems to make sense that this celebration of Hanukkah would be continued as a Christian festival.

Then over the years the Roman Empire changes and becomes Christian! The Romans are wouldn't want to change their calendar (think of the trouble it causes to change our calendar even slightly) and they already had a feast on the 25th. The feast of Saturnia! It seems to make sense that they took over the Saturnia feast for Christianity and moved the celebration from the Jewish 25th to the Roman 25th.

Christmas became 25th of December!
Unfortunately it is unlikely Jesus was born on the 25th since the shepherds were watching the sheep in the fields. Normally this was done in lambing season (although not exclusively) so the actual date was probably not December.
So, we can say Jesus was probably born in 6BC and the month is uncertain!

Why does this bring me comfort?

Have you noticed we have no real images of God? Ancient Jews were not allowed to make images of God (this made them totally different to every other religios group of the time).

We also have no verifiable images of Jesus (the popular images are fabrications of artists as can be shown by looking at religious art through the ages).
God knows how easily we worship things rather than himself! That's why it gives me comfort to see we can't decide on exact dates. That way we get to focus on God and what he did rather than specific times.
Don't you love God and the way he does things!
---
It's interesting that just as we get close to Christmas we get told that archeologists have found a house in Nazareth from around the time of Christ. The timing resonates with marketing of ideas!
This time of year even the most cynical of us start to think about the original Christmas. Most of us reject the key message, some of us have a distorted view of the message, and others try to profit from the message. A minority actually believe the message, and they do this by faith not fact, but facts do help with faith.
It's into this charged atmosphere that journalists like Dominic Waghorn, a Middle East correspondent release statements like "Israeli archaeologists claim to have unearthed the first remains of a house from Jesus's home town Nazareth, dating from the time he is believed to have lived."[1] and include the picture giving us a view of this simple home. (inserted below. . .site reference as footnote).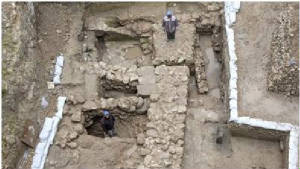 The remains date back 2,000 years. Photo: Israeli Antiquities Authority
Earlier before this discovery I pointed out that it was likely that home Jesus was born into contained two rooms and this house also has two rooms. It has a courtyard and a cistern for collecting water from rain. Pottery found, helps date it to the early Roman period (1st and second century).
Does this say this is a house that Jesus would have known? If you are a Christian you will be sure of it, but there is nothing in the find that says anything about Jesus, and even if there was, it would not have anything to show how Mary got visited by an angel, and how Jesus was God. That is a faith aspect! You either believe it or you don't.
God doesn't want us to have absolute proof of his existance since he wants us to respond to him by faith. How can we have free will if there is only one inescapable fact? I contend that no matter what we find, there will always be a question of whether Jesus is God. That's the way it must be!

It is kind of nice to have a look at a typical home from that era. Also to find out it was a small community of perhaps about 50 houses, and from a poor Jewish environment. The house seems to have a hideout, showing how instable the times were.
What does this mean for us?
We get faced with deciding what to do with Jesus. That's the real Christmas question. We can get drunk, ignore the facts and hide from life for some feew hours, or we can grasp his truth and try and make a difference in this world.
I find it amusing that the Israeli's who rejected Jesus carefully released this news at Christmas. Are they also perhaps facing a question of what to do with Jesus?
Hey, let's go have a great day and find those last few gifts! Also, maybe you could think about finding out about a place to go to church this Christmas. (If you are young call and ask how many young people attend the church and try to go to one where they do things in a modern manner). Visiting church can be more life changing than you may expect. After all faith is based in reality!
Have a good one!
In Part One and Two we covered the parts of the story up to who the Magi were that are myths. So we had reached an understanding that there was probably not three Magi, and that they probably arrived in quite a party of men and beasts of laden.
This Christmas are you going to be involved in family politics? Do you have to go to family to keep the peace? Are you racing from one place to another trying to make sure nobody get's annoyed? Families are not all places of peace and acceptance, feuds and anger often penetrate the family environment. Sometimes it's downright war! The first two Christmas' were not without these overtones.
Let's take a look at the nasty "King" the Magi met on the way!
Herod the Great was not a nice man! He was born in 74B.C. and died in 4 B.C. During his life he was known as a clever sneaky schemer who was ruthless and violent. He ruled under Roman authority and was a half Jew.


Herod had ten wives but was so jealous of one,
Mariamne
that twice he ordered that she be killed if he didn't come back from a mission. Despite this he finally killed her, one of his other wives and three of his sons, as well as some other family members. He was paranoiac about protecting his
throne.
The Roman Caesar Augustus said about Herod "
I would rather be Herod's pig than Herod's son"
It was into this environment that the magi road in!

Have you ever walked into a room where you can feel people are being polite to you but where you know they are actually talking about you behind your back? I am sure that's how the Magi felt! King Herod used them to find out about a potential rival. Instead of killing them which would have been a political mess, he tried to use them to find out who the rival was. So he could have him killed! This action fits all that is know of this man's character. He was a despicable man! [By the way this is Not the Herod who later beheaded John the Baptist].
Now to clear another myth. . ."that the star went before them the whole way" Not likely! The Magi were asking people in Jerusalem (not Herod), "Where is the child who has been born to be king of the Jews? When we were in the east, we saw his star. Now we have come to worship him."[1]

Why would they be asking if the star was going ahead of them? No, they saw it when they were in the east and then came to the center of the Jewish world, Jerusalem, to find out where they needed to go next. Also, they didn't say "hey, that's his star over there!" They say they "saw" his star.
Herod had to search the bible to find out where the Messiah was to be found. Once he had found out, he called the magi to himself secretly! This shows just what a sneaky man he was. He probably already planned to kill the child and didn't want people to connect his talking to the Magi with his later murder attempt.
I think sometimes family occasions can feel like that as well. Undercurrents flow in rooms and people behave in dishonest ways.
Herod checks out when the star appeared to try and estimate when the child had been born. The Magi are told where to go and asked to come back and let Herod know where the kid and his parents were living. This is like some of the stories I hear about parents that are divorced cross questioning their own kids to find out what the spouse is doing, done or planning. Not nice!
Okay so not the star seems to confirm what they have heard and they go to Bethlehem. When they get there they probably saw a 1 ½ year top two year old toddler Jesus. Based on the fact that Herod later tried to kill the two years and under, as well as the fact it takes time to make long journeys like the Magi made.
Then we find out that Herod underestimates God totally! God simply communicates to the Magi that Herod is up to no good and they figure they need to go home by a different route. (They were smart!).
Here is the lesson for us. We need to know that no matter what political mess we get in the center of in our family relationships, God is above it all. He loves us and will find a way to give us advice to enable us to do the right thing. It may not always be what others want, but if we are tuned into a spiritual place where we chat to the living God, we will find out how to overcome the situations.
Family events can be unexpectantly complicated. Think of Mary having to suddenly entertain these very important people, getting gifts that were for kings, and having to find ways to water and feed a small army of men and beasts. The town would have been overwhelmed. This would have been a major event in that town. This adds to the validity of bible story because lots of people would have heard about this and could have confirmed what was later written.
Mary had a tough social situation to deal with since Jesus was having an impact on the world before he could talk.
This Christmas it will not be what we say that will impact our lives and that of others but what we do. It will be the food banks we help out at, the people we invite to our tables that may not have ability to have a fine feast, the way we pray for and have integrity towards our families.
Let's make this a special Christmas! Jesus loves you and considers you special! Can you love others in a similar way?